Relax in a private bath inside a renovated traditional Japanese storehouse, while enjoying a 40-minute program of illumination art.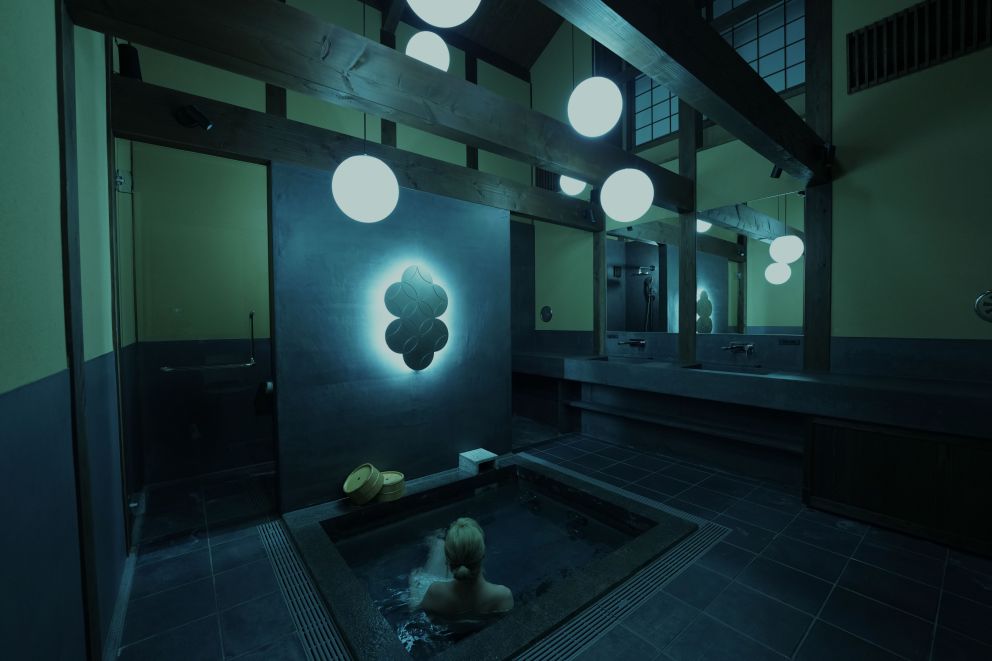 PRICE FROM JPY 1,500 PER PERSON
Color Field Bathing
access_time
3:00PM-11:00PM ( last 0:00AM )
people
3people max
・The private bath may be used between 3:00PM and 0:00AM (last admission at 11:00PM).
※ The bath is available every hour.
・Guests may reserve the bath for 40 minutes.
※ Please be ready and come to the front desk 5 minutes prior to your reservation.
・Reservations for the private bath are on a first come, first serve basis. Please contact the Front Desk by 9:00PM to make a reservation.
・Please bring the towels from your room.
・The price is 1,500yen (tax included) per person per 40min (to be paid upon check-out).
【Concept】
The space is comprised of three works of art, and its development stems from the number "7" , which is crucial to the history of Japanese bathing culture.
(1) An illuminated "77" main object is constructed with the traditional Japanese motif known as 'shichihou' (the word was from Buddhism, 'shichi' is Japanese for seven, 'hou' means fortune).
(2) Lighting art makes use of 7 spheres of light to create an illuminated space inspired by the cycle of the four seasons.
(3) We developed 40 minutes of sound art using field recordings from various places around the Kyoto Imperial Palace. Some of these sound sources played in the performance program have been manipulated by software to extend the length to over 100 million years worth of time.
The term 'Color Field Bathing' is reminiscent of the term 'Color Field Painting' . This word refers to the movement of abstract painting centered in the United States in the 1950s, but the representative abstract painters of the time emphasized the spirituality of the sublime. They did not paint concrete symbols, but rather developed pictorial expressions that had a meditative and mysterious element. Common elements of this perspective can be felt in Japanese culture's mystique of minimalism found in Shintoism, nature worship, Zen, and tea ceremony. The history of bathing in Japan has a deep relationship to Shinto and Buddhism, and within the original Shinto purification culture there is a Buddhist scripture that preaches "Reject the seven diseases and invite the seven fortunes. ", which has a history of being used to encourage bathing. In this work, the experience of enjoying the color space (field) of historical abstract paintings is expanded to the entire space and connected to Japanese bathing culture. This is a work that awakens your emotions by reconstructing a meditative and mysterious space with an installation of light and sound